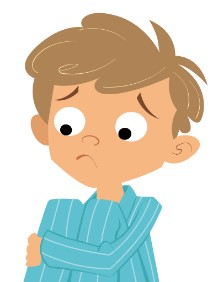 Bedwetting can have a huge impact on children's self-esteem and social relationships, and can also be distressing and frustrating for the family. Proactive evaluation and treatment can help reduce this burden.
Bedwetting, or nocturnal enuresis, is a common condition affecting around 15–20% of 5 year-olds, and 5% of 10 year-olds.1 Severity can vary, and approximately 10% of children with bedwetting experience more than 3 wet nights every week.2
Impact of bedwetting on the child
For children, bedwetting can constitute a significant burden in many areas of their lives. Several studies have found that
bedwetting negatively affects quality of life, with a particular impact on self-esteem, emotional well-being, and the child's relationship with family and friends
.
3,4
Children may be anxious or embarrassed about their bedwetting and about the social stigma of the condition.
5,6
These issues can lead them to withdraw socially, to feel that they need to keep their bedwetting a secret from friends, and to avoid social activities such as sleepovers or school trips,
5
as reflected in the patient quotations
below
. Children and families attribute their feelings of unhappiness to bedwetting,
6
and the condition is associated with increased self-rated depression in young adults.
7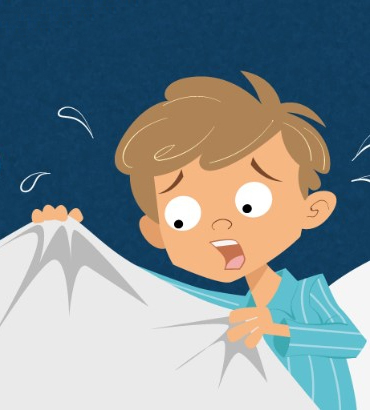 Patient quotations:
"I can't really stay at my friend's house… she always asks me to stay at her house and I say 'No'. And she asks me why and I say 'I just don't like staying at other people's houses'."
Girl, age 98
"Friends normally tell everybody about things – but I don't tell my friend about it."
Boy, age 89
"Enuresis is more bothering than day-time wetting, when I woke to it and really did not have energy to change the sheets at 12 o'clock at night."
Girl, age 910
"It is very frustrating that I still wet the bed at my age. Overall, the main thing that I feel is guilt! Because I wet the bed it creates so much washing and having to spend money on alarms, disposable pants and now mattresses, it makes me feel guilty for being a bedwetter."
Boy, age 12 https://www.eric.org.uk/dannys-story
"Sometimes the bed is so wet that the quilt is soaking too. This causes an argument between my mum and me because I tell my mum that I didn't know I had wet the bed in the night, and most of the time I don't. But my mum reckons I did know and I'm just trying to hide the wet sheets from her. But, in the morning she can always smell the wee in my bedroom – so there's no hiding it."
Boy, age 12 https://www.eric.org.uk/dannys-story
Bedwetting can impact upon children's sleep quality, for example when the child wakes fully due to the discomfort of wet bedding and the need to change bedclothes.11 Children with enuresis may also have altered sleep patterns, including differing sleep architecture and efficiency, although further research is needed to reach consensus on the exact nature, and role, of sleep disturbances in enuresis.12–17 Whatever the relationship between enuresis and sleep, studies show that enuresis is associated with tiredness during the day6,11 and problems at school.6

Impact of bedwetting on families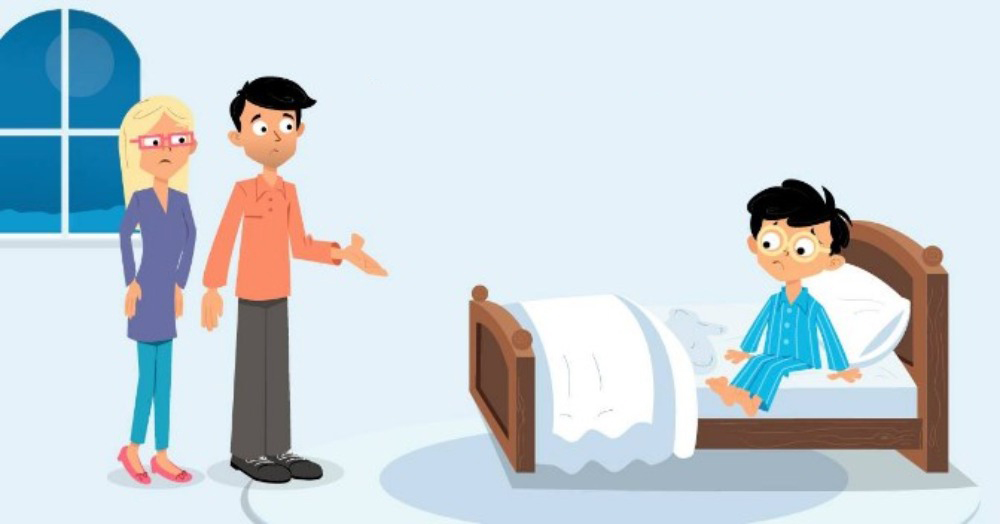 For families of children with nocturnal enuresis, there are multiple aspects of the condition that can be stressful or demanding, including interrupted sleep, increased washing, disruption in the mornings before school, and worry about their child's wellbeing or ability to spend nights away from home.8 Bedwetting is associated with mothers' negative mood18 and parental anger,19 and with increased risk of physical or other punishment of the child.8,19,20
Like their children, parents may also have feelings of embarrassment and shame about the condition,21,22 which can impact upon their willingness to talk to others or seek help. Wider family members may also be perceived as judgmental or disapproving.8 Parental knowledge about the aetiology of the condition and effective treatments is often lacking,23,24 which may reduce the likelihood of them discussing the problem with a healthcare professional.25 Some parents report that support from professionals is not always adequate – clinicians did not ask the family if they needed help, were perceived as awkward talking about the problem, or they did not seem to take it seriously.21 It is important, therefore, for physicians to be open and proactive in initiating dialogue regarding bedwetting at routine appointments.24
Healthcare professionals should also be prepared to tackle some of the misconceptions regarding the best way to treat the condition. Recent research shows that the majority of websites, found in internet searches relating to bedwetting, provide information that is not consistent with current recommendations from the International Children's Continence Society (ICCS), and many sites are layperson generated.26
In some cases, treatment for bedwetting may also lead to increased stress for families. The alarm is likely to cause sleep disruption for parents and the rest of the family (but not necessarily patients),8 and this often leads to premature discontinuation of treatment.27,28 Selecting treatment that is right for the whole family maximises chances of adherence and success. This should be a key consideration.
Parent quotations:
"Nobody ever asked us if we needed help."
Mother of an 8-year-old boy21
"Why didn't we receive any information at the Child Health Centre [pre-school check-up at age 5 years] about how common this is and where to turn… There must be a reason why they don't talk about it…is it a taboo?"
Mother of a 7-year-old girl21
"My mum'll not let her stay especially – she says she's a bed-wetter. She says when – 'Once you stop that you can come and stay here'."
Mother of a 9-year-old girl8
"Our son is 7 and has been dry during the day since he was 3, but has needed pull up diapers at night. It got to the point where it was starting to bother him. We contacted our doctor and got given lots of information and support. It really helped to know that our son is by no means unusual…We are so glad we asked for help."
"Covid lockdown seemed like the perfect time to attempt to get our son dry at night, but after a month of washing every day we contacted our doctor and school nurse. Since then, we have been implementing many of the strategies suggested by the health care professionals and we are now hopeful that the end of bedwetting may be in sight and that he will be able to start enjoying sleepovers and camps with his peers."
"Having support and treatment for our daughter's bedwetting has given us our lives back."
Parent of a 9-year-old girl
"I wish I had visited our GP sooner, but I thought that he would grow out of it. It has been so hard but he is getting better now."
Parent of a 7-year-old boy
"I'm finding the whole situation with the bedwetting extremely frustrating and challenging. It is so helpful to know there is support and help out there."
Mother of a 6-year-old boy
References
Kiddoo D. Nocturnal enuresis. BMJ Clin Evid. 2011;2011:0305.
Chang P, Chen WJ, Tsai WY, Chiu YN. An epidemiological study of nocturnal enuresis in Taiwanese children. BJU Int. 2001;87(7):678-681. doi:10.1046/j.1464-410x.2001.02161.x
Vande Walle J, Rittig S, Bauer S, Eggert P, Marschall-Kehrel D, Tekgul S. Practical consensus guidelines for the management of enuresis. Eur J Pediatr. 2012;171(6):971-983. doi:10.1007/s00431-012-1687-7
Iscan B, Ozkayın N. Evaluation of health-related quality of life and affecting factors in child with enuresis. J Pediatr Urol. 2020;16(2):195.e1-195.e7. doi:10.1016/j.jpurol.2019.12.018
Whale K, Cramer H, Joinson C. Left behind and left out: The impact of the school environment on young people with continence problems. Br J Health Psychol. 2018;23(2):253-277. doi:10.1111/bjhp.12284
Maternik M. Understanding of and misconceptions around monosymptomatic nocturnal enuresis: findings from patient and physician surveys. J Pediatr Urol. 2019;15(1):37.e1-37.e8. doi:10.1016/j.jpurol.2018.09.013
Hu HJ, Zhang ZW, Liang Y, et al. Prevalence, Risk Factors, and Psychological Effects of Primary Nocturnal Enuresis in Chinese Young Adults. Int Neurourol J. 2021;25(1):84-92. doi:10.5213/inj.2040398.149
Morison MJ. Living with a young person who wets the bed: the families' experience. Br J Nurs. 2000;9(9):572-574, 576, 578 passim. doi:10.12968/bjon.2000.9.9.6294
Morison MJ. Family Perspectives on Bed Wetting in Young People. phd. The Open University; 1995. Accessed April 13, 2022. http://oro.open.ac.uk/63363/
Saarikoski A, Koppeli R, Salanterä S, Taskinen S, Axelin A. Voiding school as a treatment of daytime incontinence or enuresis: Children's experiences of the intervention. Journal of Pediatric Urology. 2018;14(1):56.e1-56.e7. doi:10.1016/j.jpurol.2017.09.009
Cohen-Zrubavel V, Kushnir B, Kushnir J, Sadeh A. Sleep and Sleepiness in Children with Nocturnal Enuresis. Sleep. 2011;34(2):191-194.
Van Herzeele C, Dhondt K, Roels SP, et al. Periodic limb movements during sleep are associated with a lower quality of life in children with monosymptomatic nocturnal enuresis. Eur J Pediatr. 2015;174(7):897-902. doi:10.1007/s00431-014-2474-4
Nevéus T. Pathogenesis of enuresis: Towards a new understanding. Int J Urol. 2017;24(3):174-182. doi:10.1111/iju.13310
Ma J, Li S, Jiang F, et al. Relationship between sleep patterns, sleep problems, and childhood enuresis. Sleep Med. 2018;50:14-20. doi:10.1016/j.sleep.2018.05.022
Collier E, Varon C, Van Huffel S, Bogaert G. Enuretic children have a higher variability in REM sleep when comparing their sleep parameters with nonenuretic control children using a wearable sleep tracker at home. Neurourology and Urodynamics. 2020;39(1):367-375. doi:10.1002/nau.24215
Pedersen MJ, Rittig S, Jennum PJ, Kamperis K. The role of sleep in the pathophysiology of nocturnal enuresis. Sleep Med Rev. 2020;49:101228. doi:10.1016/j.smrv.2019.101228
Martenstyn JA, Machaalani R, Caldwell P, Waters KA. Relationship between sleep respiration, architecture and childhood enuresis: Correlates between polysomnography and questionnaire. Journal of Paediatrics and Child Health. 2021;57(12):1923-1928. doi:10.1111/jpc.15613
Yaradilmiş RM, Büyükkaragöz B, Yilmaz AÇ, Tayfur AÇ. Severity of self-reported depressive symptomatology and relevant factors in children with primary monosymptomatic nocturnal enuresis and their mothers. Pediatr Nephrol. 2020;35(7):1277-1285. doi:10.1007/s00467-020-04512-8
Tai TT, Tai BT, Chang YJ, Huang KH. Parental perception and factors associated with treatment strategies for primary nocturnal enuresis. J Pediatr Urol. 2017;13(3):272.e1-272.e8. doi:10.1016/j.jpurol.2016.12.025
Sá CA, Gusmão Paiva AC, de Menezes MCLB, et al. Increased Risk of Physical Punishment among Enuretic Children with Family History of Enuresis. The Journal of Urology. 2016;195(4, Part 2):1227-1231. doi:10.1016/j.juro.2015.11.022
Cederblad M, Nevéus T, Åhman A, Österlund Efraimsson E, Sarkadi A. "Nobody asked us if we needed help": Swedish parents experiences of enuresis. J Pediatr Urol. 2014;10(1):74-79. doi:10.1016/j.jpurol.2013.06.006
Alanazi ANH, Alanazi RSM, Alanazi EN, Alanazi RM, Rabbani U. Prevalence of Nocturnal Enuresis Among Children and Its Association With the Mental Health of Mothers in Northern Saudi Arabia. Cureus. 2022;14(2):e22232. doi:10.7759/cureus.22232
Schlomer B, Rodriguez E, Weiss D, Copp H. Parental beliefs about nocturnal enuresis causes, treatments, and the need to seek professional medical care. J Pediatr Urol. 2013;9(6 Pt B):1043-1048. doi:10.1016/j.jpurol.2013.02.013
Grzeda MT, Heron J, Tilling K, Wright A, Joinson C. Examining the effectiveness of parental strategies to overcome bedwetting: an observational cohort study. BMJ Open. 2017;7(7):e016749. doi:10.1136/bmjopen-2017-016749
Dunlop A. Meeting the Needs of Parents and Pediatric Patients: Results of a Survey on Primary Nocturnal Enuresis. Clin Pediatr (Phila). 2005;44(4):297-303. doi:10.1177/000992280504400403
Whitley JA, Kieran K. Accuracy and comprehensiveness of publicly-available online data about bedwetting: An actionable opportunity to improve parent and caregiver self-education. Journal of Pediatric Urology. 2020;16(5):661.e1-661.e8. doi:10.1016/j.jpurol.2020.07.013
Evans J, Malmsten B, Maddocks A, Popli HS, Lottmann H. Randomized comparison of long-term desmopressin and alarm treatment for bedwetting. Journal of Pediatric Urology. 2011;7(1):21-29. doi:10.1016/j.jpurol.2010.04.018
Tai TT, Tai BT, Chang YJ, Huang KH. The Importance of Understanding Parental Perception When Treating Primary Nocturnal Enuresis: A Topic Review and an Institutional Experience. Res Rep Urol. 2021;13:679-690. doi:10.2147/RRU.S323926